Meticulous Carpet Cleaning Thousand Oaks- Our Family Serving Your Family
We love dirty carpets! At Thousand Oaks Rescue Carpet Repair, we clean filthy, dirty carpets making them look new again. We offer both residential carpet cleaning thousand oaks, commercial carpet cleaning, encapsulation cleaning. We also do Green Eco-Friendly Carpet Cleaning for those who are allergy sufferers or environmentally sensitive.
We only do deep carpet cleaning, we do not do "blow-and-go" carpet cleaning with 1 pass of a wand. By the way, Carpet cleaning is for insoluble soil, NOT dry soil removal. With any IICRC certified cleaner, pre-vacuuming the carpet is required to remove dry-soils, which is why we do it.
Of course, with wet Hot Water Extraction, we are removing some dry soil via wet hot water extraction. For the most part carpet looks dirty from the insoluble soil, not the dry soil.
Thats why We provide a 11 step deep clean described here:
CARPET PRE-INSPECTION.
First, we will walk the carpeted rooms with you to identify your 'hot-button' areas of concern, being careful to notate them. We want to give you the best cleaning you've ever had!
2.  VACUUM YOUR CARPET.
Next, we then vacuum your carpet.  This removes 80% of your "dry soils" as mentioned above. Many carpet cleaners DON'T do this. We are certified and we do a pre-vacuuming on every job!
3. WE FORMULATE A SPECIAL CUSTOM CARPET CHEMISTRY JUST FOR YOU- WHY?
The answer is that your house and someone else's is NOT the same, so why would we use the same carpet chemistry on both? Whether you need, an enzyme treatment for urine, or an oxidation treatment for organic stains, we will do what's best for you and safe and effective for your carpeting.
4. WE PRE-SPOT YOUR STAINS
We want to give extra attention to your stains and high-traffic areas. We pre-treat them and agitate them allowing extra dwell time while were prespraying the entire carpeting.
5. PRE-SPRAYING ALL CARPET TO EMULSIFY THE SOILING & OILS
Our custom designed carpet pre-spray is designed to break-down, or "emulsify" the soils from you and your family, as well as the oils from pets etc. Our chemistry is telling the soils to "release" from the carpeting into our wand when we hot water extract.
6. WE PRE-SCRUB YOUR CARPET WITH A CRB, A 'Counter-Rotating-Brush' machine – Why?
The answer to why do we do this is found in Agitation. Certified Carpet Cleaning requires that we agitate the cleaning chemistry product into each and every carpet fiber. This accomplished several things. It 'breaks' surface tension that electrically exists in your carpet, which allows the cleaning product to absorb into the dye-sites of the carpet fiber. Real cleaning is being done here! We want to be as strong as possible with the cleaning, but as gentle as is needed to your carpet. MOST CLEANING CO'S DO NOT DO THIS STEP. WE DO! Our CRB is a critical step.
7. WE CLEAN WITH A TRUCK-MOUNTED CARPET CLEANING UNIT WITH 230 DEGREES.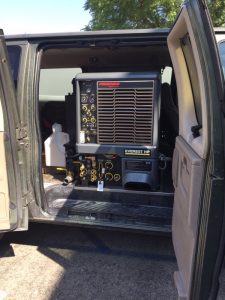 A portable carpet cleaning machine cannot generate both the heat and the pressure of a truck mounted unit. We use the top of the line Prochem Everest. By the time the heat reaches the end of the wand the steam is about 205 degrees, allowing the most effective cleaning heat. You will notice a huge difference with the outcome of our cleans, especially because of our heat & process.
8. WE RINSE & NEUTRALIZE & CONDITION YOUR CARPET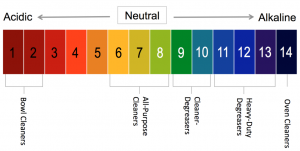 Why is this? In order to do a proper carpet cleaning thousand oaks, we needed to increase the alkalinity on your carpet. Now that were done, we need to rinse, neutralize and condition your carpet back to a 7 PH, leaving your carpet "squeaky clean".
9. WE GROOM YOUR CARPET
Sometimes, your carpet can be matted and crumpled with the fibers laying down to the side. We will "rake" your carpet, allowing the carpet fibers to dry standing up. This aids the drying process, plus it gives your carpet that professional look we all just love!
10. WE SPEED DRY YOUR CARPET
This is done in Most cases, not every time. We will speed dry your carpet by dropping an air-mover, called a 'Dri-pod' in each room as we finish that room. Rooms are not dryed with heat as we may think, but with vapor pressure. So wind, moving along your carpet is very effective. We can usually dry carpet in as little as 2-3 hours by speed drying it while we are there.
11. POST INSPECTION WITH YOU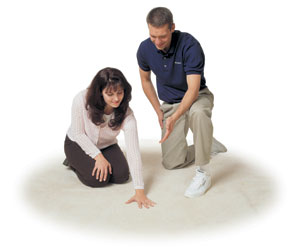 Lastly, we will walk the carpeting in your home with you. We want to show you the areas of concern with you to show you how we did. We will also discuss any problem areas and what we did to clean them and any action plan that we may have for them.